Clinical Herbal Medicine
To book an herbal consultation with Lena please email office@redmoonwellness.com.
About Lena DeGloma, MS, LMT, CD, CLC, CCCE
Lena is the founder of Red Moon Wellness in Park Slope, Brooklyn. She is a clinical herbalist, licensed massage therapist, certified birth doula, certified lactation counselor and certified childbirth educator. Lena offers individual herbal medicine consultations for adults and children at her office in Park Slope. She began studying herbal medicine over 10 years ago, first through two apprenticeships (one at Alba Nueva herb farm in Costa Rica with Dr. Ed Bernhardt and another at the Heartstone Herbal School near Ithaca, NY with Tammi Sweet and Kris Miller) and then went on to receive a Master of Science in Therapeutic Herbalism from Maryland University of Integrative Health (MUIH), formerly known as Tai Sophia Institute. She also completed a one-year post-graduate internship in clinical herbalism at MUIH's Natural Care Center.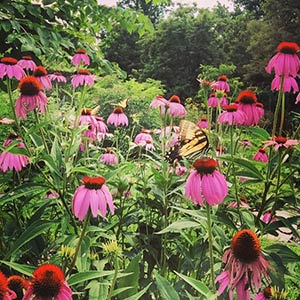 Lena is currently a part-time faculty member at the ArborVitae School of Traditional Herbalism in Manhattan where she teaches about female reproductive health and herbal therapeutics as well as herbs for the musculoskeletal system. She also teaches Optimal Nutrition for the Childbearing Cycle for the Childbirth Education Association of Metropolitan New York (CEA/MNY)'s Teacher Certification Program. She has previously taught massage, supervised student clinics, and written prenatal massage curriculum at Queensborough Community College in Bayside, NY and the Finger Lakes School of Massage in Ithaca, NY. In her award-winning graduate research while at MUIH, Lena developed a new theoretical model of uterine contractility states and herbal therapeutics by integrating a traditional "tissue states" approach to uterine tonicity with biomedical evidence on uterine contractility. Lena has also given talks and taught workshops throughout New York City, including at the New York Open Center, on herbal medicine for circadian rhythm misalignment for birth workers and night shift workers. She has published a case study titled "The Link between Gut and Autoimmunity: Treatment of Polymyalgia Rheumatica and Colitis with a "Weeding and Feeding" Approach" in the Journal of the American Herbalists Guild Spring 2018 edition and also has a forthcoming chapter in a book for professional doulas on herbal medicine for circadian disruption. One of her core clinical interests involves the relationship between herbs, nutrition, and the microbiome (especially concerning early microbial establishment through practices surrounding pregnancy, childbirth, and infant feeding) and its impact on disorders related to immunity/inflammation, metabolism/digestion, and neuroendocrine function.

Lena enjoys working with all types of clients to help them find practical and effective tools to support their health and wellness. She lives in Park Slope with her husband and their one-year old daughter, Juniper.